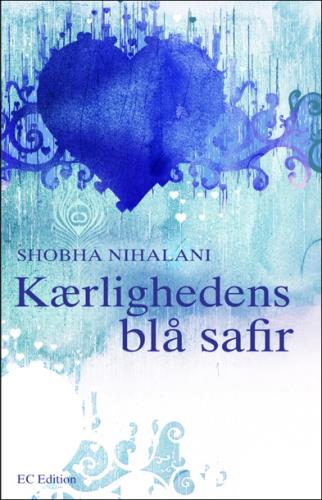 Kaerlighedens bla Safir (Love's Blue Sapphire)
Karmic Blues, Nihalani's debut novel was translated in Danish and published in Denmark By EC-Edition in 2008. Set in Hong Kong and India, the concept of paranormal love is sensitively portrayed.
The novels main character, Neelam Sippy, is a young woman living in India. After an arranged marriage she finds that her husband is not the right man for her. She belongs to her first love – a lawyer turned ascetic – who she believes is from a past life. Haunted by recurrent dreams of palaces, deserts, princesses and feelings of unrequited love, Neelam visits a regression therapist to learn more about her past.She discovers that she is Mirabai, a sixteenth century Indian Rajput princess who was enamoured with Krishna. Mirabai left her position of royalty to become a wanderer and dwell on her love. Neelam secretly leaves her husband and family in search of her love.
From Mumbai, she travels north towards Gujarat and then to the hot, dusty state of Rajasthan, the place of her dreams, and finally towards the banks of the Yamuna River. Hong Kong-born Neelam will discover that a journey for love can be a dangerous, mysterious and even miraculous adventure of all.
During her quest, she meets a young orphan boy who becomes her guide, a spiritual philosopher who has more than religion on his mind, and a Delhi-based reporter who develops a bond with Neelam.
The suspenseful story intertwines the modern with the ancient concept of love. Click Here
Det Tavse Monument (The Silent Monument)
The Danish translation of The Silent Monument was released in September 201. Det Tavse Monument
(Translated from EC-Edition website) Thrillers – with historical-religious elements from Indian Shobha Nihalani, author of "Love's blue sapphire." Saxena Manzil life changes dramatically when her husband, a journalist is killed, leaving her an antique object which is the reason why she is being chased by criminals.
The object reveals a secret that has been preserved through the centuries, and which may result in a violent chaos between extreme religious groups in India. A secret that could ignite tensions between Hindus and Muslims and divide a nation.
Saxena Manzil is an exciting and her built heroine and merchants female figure that exceeds the usual stereotypes of Indian women, since she is a very modern woman and yet much influenced by its culture and religion. She joins forces with her late husband's colleague and investigating the murder of her husband.
Reviews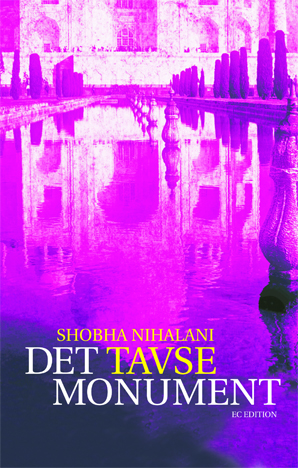 Your content goes here. Edit or remove this text inline or in the module Content settings. You can also style every aspect of this content in the module Design settings and even apply custom CSS to this text in the module Advanced settings.